PLANET BLUE SPB7U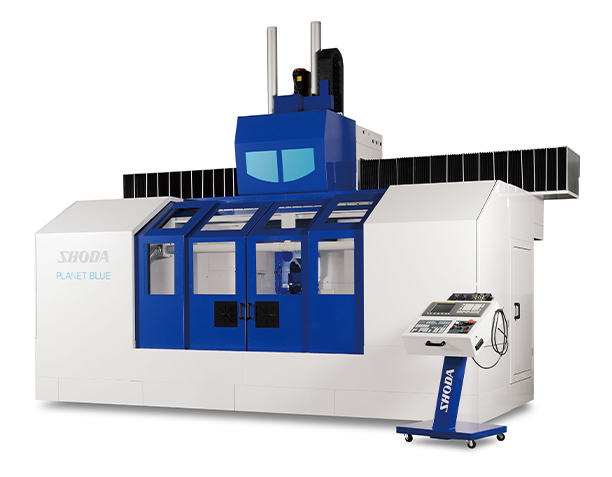 PLANET BLUE SPB7U
PRODUCT CHARACTERISTICS
Keep cutting dust out, complete dust-free structure, pressure balancing function.
Prevent cutting dust from entering the linear guide and ball screw Function to prevent cutting dust from entering by fixed cover and belt cover.
Function to remove cutting dust, a function that blows cutting dust with a blower and blows it to the dust collection port behind the machine Dust collection function that opens and closes automatically at the bottom of the table.
items
Unit
SPB7U
Each Axis Stroke
X Axis (Effective Stroke)
mm
2900 (2600)
Y Axis
Mm
1600
Z Axis
Mm
800
A Axis
Deg.
±110°
C Axis
Deg.
±360°
The distance from the spindle gauge line
Mm
810
Table dimension
Mm
2100 x 1300(Suction table)
Spindle
Output
KM
5.5
Speed
MIN-1
3000~18000
Spindle type
BT30(option:BT40)
Feeding Speed
Rapid Traverse(X・Y)
m/min
60
Rapid Traverse(Z)
m/min
20
Rapid Traverse(A・C)
Deg/min
4400
Cutting speed(X・Y)
m/min
0~40
Cutting speed(Z)
m/min
0~20
Cutting speed(A・C)
Deg/min
0~4400
Automatic tool changer
Tool the storing number
16tools
The storing number shank
Random taking short cut method
Tool Selection
BT30(option:BT40)
Pull Stud
MAS.BT30-II
Max. Tool Dia.
Mm
Ø80
Max. Tool Length
Mm
250
Max. Tool Weight
kg
3
NC System
SHODA FANUC
SYSTEM 31I-MB5
5-axis control simultaneous 5 axis
Applications and materials
Aircraft parts
CFRP parts
Auto parts
Building materials